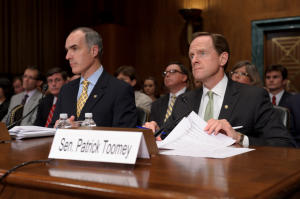 Sen. Pat Toomey (R) maintained a solid fundraising pace during the first quarter, bringing in almost $515,000.
He spent $207K, leaving him with $2.4 million cash on hand. The fundraising period included January, February and March.
Of his contributions, $379,000 came from individuals and $141,000 came from PACs.
His 2016 re-election race is likely to be an expensive one, and seriously contested given the fact that it will be a presidential year.
He may have already earned a fundraising victory: Toomey's relatively strong pace likely was among the factors that Congresswoman Allyson Schwartz considered when deciding whether to run for Governor or U.S. Senate.
He raised $470,000 last quarter.
Though Toomey has not explicitly declared his intent to seek re-election, his disbursements (not to mention his COH) give every indication that he will. He paid staff, fundraising consultants, strategic consultants, a pollster and postage for fundraising mailings.
His colleague, Sen. Bob Casey (D) had a relatively more relaxing quarter, raising just $44,000. He was re-elected by a comfortable margin last year and won't go before voters again until 2018.
He spent $104,000 and has just $55,000 cash on hand. Of the contributions he received, $22,000 each came from individuals and from PACs.