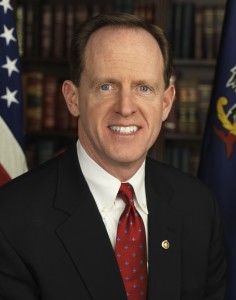 Sen. Pat Toomey is moving up in the world. The freshman Republican will join the powerful Finance Committee, the first stop for tax reform legislation and other big-impact legislation.
"I am honored to receive a seat on the Senate Finance Committee, which is a huge win for Pennsylvania and will ensure that our state is represented on one of the most important committees in Congress," Toomey said.
The Finance Committee is one of the most influential in the Senate and the primary goal for policy wonks. It's the equivalent of the House Ways and Means committee and is responsible for writing tax law. That would include any major tax reform effort, something both sides of the aisle expect in the coming session.
"With our skyrocketing deficits and stagnant economy, I look forward to working with my colleagues on both sides of the aisle to enact pro-growth reforms of our inefficient and overly complex tax code and modernize our entitlement programs to make them sustainable for the long-term," he continued.
Toomey is the former head of the influential Club for Growth, a former member of the 'supercommittee,' and the chair of the Senate Steering Committee (the Senate policy caucus for conservative Republicans).
Toomey is one of two freshman to win the assignment, one that he's sought since winning election in 2010. He'd given up his spot on the Commerce Committee but will remain on the Banking, Housing and Urban Affairs; Budget; and Joint Economic committees.
There's a chance that both of Pennsylvania's Senators could wind up on Finance. With John Kerry on his way to becoming Secretary of State, his seat is now vacant. DC chatter indicates that Casey is at the front of the line to fill it.