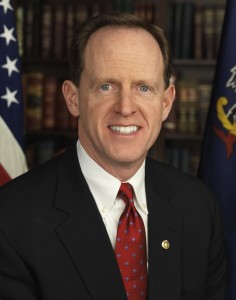 Sen. Pat Toomey wants to tweak the delicate negotiations over the Senate's immigration bill in favor of business over labor.
As the Senate has been intensely wrangling over immigration reform the last few months Toomey, despite perhaps being a key vote, has been reluctant to wade into the debate. That stance changed Thursday when PA's junior Senator introduced an amendment to increase the cap on low skilled immigrants that are allowed to enter the new work visa program.
As first reported by The Morning Call, Toomey today criticized the Senate's current bipartisan "Gang of Eight" legislation as an "anti-immigration" bill because it doesn't give those who migrate to the United States an adequate legal path to find work.
"To come here legally and work hard to build a better life, I know of some my friends, especially on the other side, are going to oppose this," Toomey said, the Call reported. "But I will tell you if we do not raise the caps for low-skilled workers who want to come to this country then the next wave of illegal immigration is guaranteed regardless of what we do at the border."
Toomey's amendment is sure to aggravate organized labor. During negotiations, labor leaders were able to limit a new class of work visas in the "Gang of Eight" bill, called W visas, that would focus on jobs that didn't require a college degree. The agreement stipulated that these jobs would first go to American works before immigrants were considered. With these new W visas, labor fears that businesses would cut wages for building trade workers were assuaged.
That deal, along with others like them, were negotiated in order to win the support of the AFL-CIO, the country's largest labor union, and the Chamber of Commerce, the nation's strongest business group, to give the impression of a truly bipartisan, united front in support of this effort at reform. Toomey's amendment, if adopted, could threaten this balance.
While labor may be upset, though, Toomey's amendment is likely to be well received by Latino voters who – though a smaller portion of the Pa. electorate that most other big states – could be critical to his re-election efforts.
In the Republican wave year of 2010, Toomey defeated Democratic nominee Joe Sestak by roughly only 80,000 votes out of about 4 million cast. In that election, Latino turnout was 3%, a percentage so negligible that the exit polls couldn't break down the vote by candidate. In 2012, however, Latinos represented 6% of the vote and Senator Bob Casey beat his opponent Tom Smith by 500,000 votes out of approx. 5.5 million cast. Casey defeated Smith by 78% to 21% among Latinos according to the exit polls.
It's unclear if Toomey's proposal will even actually be taken up by the Senate, as the leadership has been trying to limit the number of proposed amendments to the legislation.
It's not apparent whether the amendment is a deal-breaker for Toomey, or whether he is inclined to support the bill regardless.
Several conservative groups criticized Toomey when he voted to proceed with the debate on the immigration bill.