Top 20 Pa. House Redistricting Winners and Losers
By Keegan Gibson, Managing Editor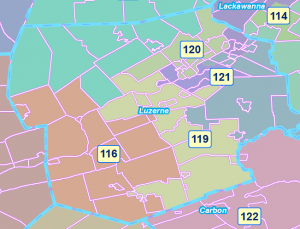 PoliticsPA talked with campaign consultants, political operatives and legislative staffers to see which members benefit from the plan, and who doesn't. You can view the maps here, and read about some of the specific district changes here.Their consensus: if the preliminary map is adopted without significant changes, Republicans have strong odds to keep the Pennsylvania House for the next decade. "Barring some scandal or a major demographic shift, 100 percent," said one Democratic operative.
Granted, these are preliminary maps and are subject to change. Subject, but not likely.
Click here to read our list of Pa. Senate winners and losers. Like the Senate list, there are more winners than losers here. At the end of the day, redistricting generally helps incumbents of both parties.
Please feel free to comment below if you think there's anyone we missed. Without further ado, here are the 20 State Reps most helped, and most hurt, by the preliminary redistricting plan.Winners:Matt Bradford (D-70, Montgomery).He cleared a GOP challenge by about five points last cycle, but he'll have no such trouble next year. Bradford inherited the entire Borough of Norristown – a Democratic stronghold.Jim Christiana (R-15, Beaver). The boy wonder was gifted a huge portion of western Washington County – solidly Republican territory. He now has a safe GOP seat.
Margo Davidson (D-164, Delaware). It's less that the freshman Democrat would have been in re-election trouble if the district remained the same (that's a maybe). Instead, she lucked out when the GOP decided to add Dems, rather than alter the boundaries to make the seat more competitive for a Republican challenger.
Frank Dermody (D-33, Allegheny). The Minority Leader has always had a race, and his new seat will be reliably safe. But its a Pyrric victory for Dermody and other ranking western PA Dems, whose growth comes at the expense of other members.
Eli Evankovich (R-54, Westmoreland). His district now runs around three Democratic districts and sneaks west to pick up stronger Republican areas (including his home town of Murrysville) while losing heavily the Democratic urban areas of New Kensington and Arnold.
Frank Farry (R-142, Bucks). We're sure he's sorry to see strong Democratic areas like Hulmeville, Penndel and parts of Middletown Twp leave his district, but we're sure he'll get along swimmingly with the Republican voters in upper South Hampton Twp.
Bud George (D-74, Clearfield). George doesn't care that Mike Turzai used his plight as prop to make this map look less partisan – he just wants to keep his district in Clearfield County. The GOP made a smart play here, and embarrassed the House Ds.
Tim Hennessey (R-26, Chester). Hennessey is a beneficiary of a smart play by the GOP. They plucked a Democratic district out of the southwest to create a new lean-D seat based in Coatesville. It's one seat for the Dems, but it shores up several Chesco freshman Republicans – none moreso than him.
Joe Markosek (D-25, Allegheny). Like Dermody, Markosek's seat went from challengeable to strong D by shedding the Westmoreland parts of the district. The Democratic Appropriations Chair will have nothing to worry about from Republicans – but the shrinking contingent of western PA Dems could open him up to a leadership challenge within his caucus.
Jim Marshall (R-14, Beaver). Democratic Beaver Falls and New Brighton will have a new Pa. Rep: Jaret Gibbons (D-10) who for that reason could have made this list. This is former Rep. Mike Veon's seat and had been strongly Democratic for decades, but no more.
Rick Saccone (R-39, Allegheny). Beating his opponent by 151 votes last year, Saccone's win was the closest in the Pa. House last year. He has picked up some extra Republican votes for next time around, shedding the Democratic-leaning areas of Baidland and the City of Clairton and heading west to gain stronger Republican precincts.
Steve Santarsiero (D-31, Bucks). Republicans came within 162 votes of knocking off Santarsiero last year, so it's somewhat of a surprise that this plan improves his district so sharply. The new map moves half of solidly GOP Upper Makefield Township to Scott Petri's already fairly Republican district, and replaces it with solidly Democratic Morrisville Borough.
Justin Simmons (R-131, Lehigh). Living here in Allentown? The young GOP upstart won't be representing you any more. The city has been cut out of his district in favor of fertile Republican turf in norther Montgomery County.
Tarah Toohil (R-116, Luzerne). When you knock off the opposing party's leader, you're entitled to a safer district. Toohil likely won't need to campaign ever again – she dumped the Democratic-leaning eastern portion of her district to gain about a quarter of Karen Boback's conservative district.
Losers:
Frank Burns (D-72, Cambria). Burns shed some marginal Dem municipalities in favor of parts of Indiana and Westmoreland counties. Those areas are not typical Dem areas -Obama significantly lost every municipality that Burns gained.
Mike Carroll (D-118, Luzerne). Is he vulnerable with the new map? Not really. But Carroll lost a big chunk of his home base in Pittston and Duryea – some of the strongest Dem-performing precincts in NEPA. He'll add more of western Monroe Co. other conservative areas like Tobyhanna, bringing his 65 percent Dem districts down to about 55 percent – possibly worse in a bad year.
Rick Mirabito (D-83, Lycoming). There weren't too many places where Mirabito's Williamsport-based district could go that didn't increase his Republican constituents, and you can make the case that the GOP areas he picked up weren't the worst ones possible. That said, the district will remain a top GOP target for the next decade.
Gerald Mullery (D-119, Luzerne). Like Carroll, Mullery's nice, compact district has been skewered. It's now over 25 miles long and a third to half of his constituents will be new to him. And to top it all off, redistricting winner Tarah Toohil is rubbing his nose in it – calling Mullery "lazy."
Adam Ravenstahl (D-20, Allegheny). The preliminary map has the district completely out of the City of Pittsburgh, where Ravenstahl's brother is Mayor. The GOP has said it was an oversight – that the final version will account for Ravenstahl's home. But his base will weaken regardless.
Jesse White (D-46, Washington). Truly Jesse White got crushed here. His district was deliberately combined with that of Rep. Nick Kotik (D-Allegheny) and improved double digits for the Dems. But most of the primary voters are in Kotik's home turf and White is a long shot at best to keep a seat.
Sari Heidenreich contributed to this list.