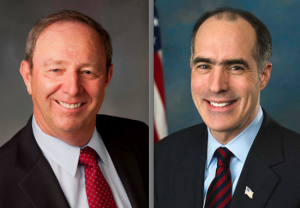 Tom Smith is gaining on Sen. Bob Casey according a poll commissioned by The Pittsburgh Tribune-Review. The Democratic Senator leads the Republican former coal miner 46 percent to 41.
The survey of 800 likely voters was conducted from Sept. 18 to 20 by Susquehanna Polling and Research, which is also a frequent pollster for Republican candidates and causes. The poll's margin of error of 3.46 percent.
The same poll showed President Obama leading Mitt Romney 47 percent to 45 percent.
Pollster Jim Lee said both Smith and Casey were losing part of their bases to the other.
"That's why you'd have to give the advantage to Casey," Lee said. "For Smith, he's got to basically squeeze every last vote out of the Republican base. He can't lose 15 percent of the GOP vote. And he's got to win conservative Democrats who historically have voted for Casey because Casey's a conservative Democrat on social issues."
The Pa. GOP commissioned a statewide poll by SP&R last week. That survey from Sept. 15 to 17, also of 800 likely voters, showed the presidential race similarly close: 45 percent for Casey to 42 percent for Smith.
Not including this poll, Casey has a 13.2 percent advantage in Pa. according to the average compiled by Real Clear Politics.
Why the difference between SP&R polls and others, which show both the presidential and U.S. Senate race more lopsided in favor of Democrats?
The pollster wrote a detailed explanation here, which is worth a read. It boils down to this: SP&R considers voter turnout from the Obama wave year of 2008 to be an outlier and thus bases its numbers on the 2004 presidential contest.