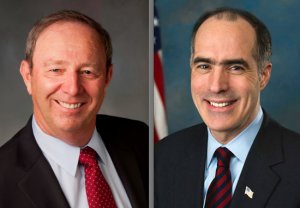 The U.S. Senate race is a dead heat, according to the latest poll commissioned by the Pittsburgh Tribune-Review. Casey leads by 1 point, 46 percent to 45.
GOP Challenger Tom Smith has improved since the Trib's poll on Sept. 12, when he trailed 46 percent to 41.
The survey was conducted by Susquehanna Polling & Research in Harrisburg from Oct. 29 to 31. They polled 800 likely voters at a margin of error of 3.4 percent.
Casey had a slight edge as far as favorability: positive, 40 percent to 34. 38 percent of respondents had a favorable, and 34 percent had an unfavorable view of Smith.
The results are similar to Smith campaign internal poll released Friday, which showed a 46 – 46 tie. But it's much closer to the polling average by Real Clear Politics which shows Casey up 6.2 percent; 47 percent to 40.8. The average does not yet include this poll.
If you think you've been hearing a lot this election cycle about wide differences between pollsters, you're right. Some pollsters set quotas for party registration of voters they survey based on their expectations of turnout. Those results tend to favor Republicans.
Other pollsters only set quotas based on turnout expectations by other demographic information, such as age, gender and geography. This cycle, those polls have tended to favor Democrats.
SP&R follows the former approach, hence its frequent status as a GOP-favoring outlier this cycle.