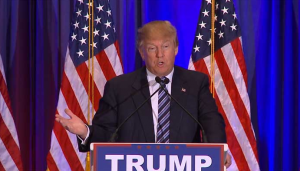 Pick your jaws up off the floor, Donald Trump has won the White House and Pennsylvania was a crucial part of his electoral path.
The Keystone State was generally considered to be leaning Democratic and had gone blue for six straight elections.
According to the RealClearPolitics average, Trump never led Hillary Clinton in Pennsylvania.
Nonetheless, Trump captured 2,890,633 votes (48.84%) while Clinton received 2,817,409 votes (47.60%).
Will have more analysis of the results in the days to come but it's worth pointing out some significant shifts in the commonwealth's electoral landscape.
Three counties: Erie, Luzerne and Northampton switched from Obama to Trump. There was also only county, Chester, that went from Romney to Clinton.
The full numbers in PA will be fascinating to unpack.