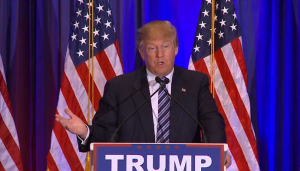 Donald Trump is spending the Friday night before the election in the land of chocolate.
The Republican nominee for President will be campaigning in Hershey.
Trump is set to visit the Giant Center for a rally. It's set to start at 7:00 p.m. and gates open at 4:00 p.m.
The home of the AHL Hershey Bears, the arena holds 10,500 to 12,500 people. It's also no stranger to late Republican rallies.
In 2008, John McCain and Sarah Palin made a joint appearance a week before Election Day.
Additionally, Mike Pence will be stopping at Atlantic Aviation on Thursday. The event begins at 6:30 p.m. and the gates open at 4:30 p.m.