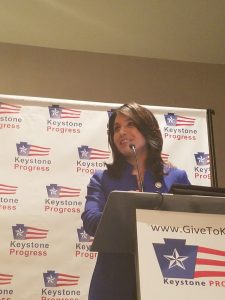 Harrisburg — Hawaii Rep. Tulsi Gabbard spoke to a crowd of over 300 people in Harrisburg about how to continue the resistance against President Trump and his agenda.  
It was the Keystone Progressive Summit, an annual gathering of liberal activists and leaders from across Pa.
Gabbard, an Iraq War veteran and sophomore Congresswoman, told the room that they need to stay on the path forward, instead of falling back.  
"We must stay focused and rooted, and grounded as we navigate to path forward," Gabbard said.  
"Rather than burning bridges, we need to focus on building bridges.  Focus on providing leadership, focus on providing vision and taking action in a positive direction."
Her speech echoed the tone of the event, with activists determined to move the Democratic party to the left. Last year's featured guest was Vermont Senator and presidential hopeful Bernie Sanders.
"This in no way means giving up principles, this in no way means stepping away from our values.  Actually it is the opposite, it is taking a stand strongly now for our principles," Gabbard said.
Despite a reputation as a progressive hero, Gabbard has taken heat from the left in recent months for signaling a willingness to work with President Trump. She had a high-profile meeting with Trump in November. She pushed back on that criticism Friday.
"There are some who think that the best way to approach the next four years is through constant and consistent obstruction at every step and every turn. I disagree with that," she said.
"We can best serve our communities, our state and our country by stepping up as leaders."