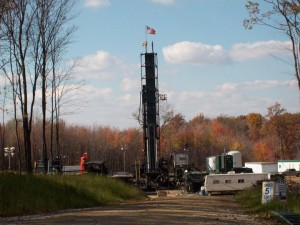 Public opinions of Pennsylvania citizens on the natural gas industry are mixed, according to a University of Michigan and Muhlenberg College poll and academic study.
While the poll found general public support for the extraction of natural gas in Pennsylvania, respondents also had some reservations about its potential risks.
The Muhlenberg College Institute of Public Opinion, in collaboration with the University of Michigan, polled 424 Pa. residents from October 24 to November 4, 2012, via live interviews to landlines and cell phones. The margin of error is plus or minus 5%.
Why such a long delay from the time the poll was taken until its publication this month? Most likely to facilitate an in-depth academic analysis by the University of Michigan.
"Fracking"
While public support for shale gas extraction in Pennsylvania achieves a plurality in the poll (26% somewhat support and 23% strongly support versus 19% somewhat oppose and 21% strongly oppose), the poll finds that the public holds a largely negative perception of the term "fracking".
45% of respondents held a negative perception of the term, while 31% held a positive perception.
The term fracking has often been used in a derogatory manner in the debate surrounding natural gas exploration, which could explain the poll's finding.
Risks and Benefits
Gas drilling stands on solid ground in the state. A total of 84% said it is important to Pennsylvania's economy. Respondents said it was either very important (38%) or somewhat important (46%).
While the poll's findings indicate that a majority of Pennsylvanians (54% vs. 30%) see more benefits than problems so far with natural gas drilling and exactly the same amount believe the same will be true in the future, respondents were still generally concerned about its risks.
45% of respondents believed there is a moderate likelihood of health and environmental risks, while 26% believed there is a high likelihood and 17% believed there is a low likelihood.
Moratorium?
41% strongly agreed that a moratorium should be placed on gas drilling, while 17% somewhat agreed, 6% somewhat disagreed and 25% strongly disagreed.
However, the poll question may have influenced the results in favor of a moratorium. "Some states have imposed a 'moratorium' on hydraulic fracturing until there is a fuller understanding of the possible risks. Do you strongly agree, somewhat agree, somewhat disagree, or strongly disagree that Pennsylvania should establish a moratorium on hydraulic fracturing, or not?"
As Marcellus Shale Coalition spokesman Steve Forde noted about the poll, "While the structure and wording of select questions in this survey are indeed questionable, particularly with regard to imposing a moratorium, it's clear is that Pennsylvanians, like the American people, continue to increasingly recognize the enormous environmental and economic benefits associated with safe, clean-burning natural gas development."
"By sizable margins, support for this tightly-regulated, job-creating development remains strong."
Regulations and Public Officials
28% strongly disagreed with the idea that tighter regulations would force drillers out of state, 20% somewhat disagreed, 19% somewhat agreed and 22% strongly agreed.
Gov. Tom Corbett received uncertain marks on his handling of natural gas drilling in the state. 45% weren't sure, 36% disapproved, and 19% approved of Corbett's handling of the issue.
Public opinion of the state legislature's handling of drilling within the state was even less certain, with 50% unsure, 33% disapproving and 17% approving.