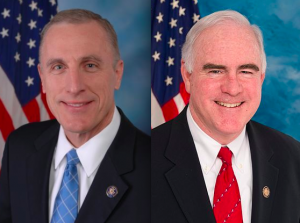 A super PAC aimed at boosting the number of pro-union members of the Republican caucus is lending a hand to two labor-friendly Pa. Congressman. The Lunch Pail Republicans will air television ads touting the work of Reps. Pat Meehan (R-Delaware) and Tim Murphy (R-Allegheny).
"The first thing you learn in politics is you learn how to count, and there are Republicans that actually know that people that are their constituents work for a living," said Jim Sullivan. He's the Chairman of the Lunch Pail Republicans Independent Expenditure Committee.
"They need good wages and benefits so they can actually survive and stay in the middle class, and they go along with our issues."
"Not all Republicans are wackos," he added.
The group was formed in March as part of an effort to combat a proposed Right to Work law in Indiana. The group expanded its focus nationally shortly thereafter, said Sullivan.
According to the most recent info from OpenSecrets.org, the only sources for its funding are PACs affiliated with the International Union of Operating Engineers totalling about $125,000. They're spending $35,000 a piece for Meehan and Murphy – a relative drop in the bucket in the big Philadelphia and Pittsburgh media markets, but a good bragging point for two incumbents in moderate districts.
Update: The ads, which are both positive, are in production. PoliticsPA will update this story with the ads when we obtain them.
It's part of a national buy to boost 14 swing district Republicans facing top tier Democratic candidates. Except for Larry Maggi, the Democrat running against Murphy, all of the challengers appear to be listed on the Democratic Congressional Campaign Committee's "Red to Blue" list.
Labor groups typically align with Democrats, but Sullivan says exceptions are in order.
"You can look at some of the votes that have taken place concerning Davis-Bacon and PLAs [project labor agreements]. We have 46 Republicans in that caucus support us. What, are we gonna turn our backs on 'em just because Democrats are supposedly the savior of labor?" Sullivan asked.
The way an elected official interacts with his or her local unions is just as important as voting record. Both Meehan and Murphy get along with them well.
Meehan, a freshman, has gotten along well with the labor groups in his southeast Pa. district. He helped to craft a deal between business and labor that kept a long-standing local refinery – and thousands of related jobs – in Delaware County. As a result, he has the backing of a big SEPA labor group.
Murphy's strong labor ties actually became a liability for the five-term Congressman earlier this year when he faced a primary challenge from Evan Feinberg. Feinberg repeatedly hammered Murphy's vote for the Employee Free Choice Act and his positive vote ratings from labor groups. Murphy has also vocally supported laws to crack down on what he says says are egregious violations of trade law violations by the Chinese – another labor priority.
The AFL-CIO endorsed 14 of 17 Democratic candidates for Congress in Pa. and declined to endorse in the other races. The three Republicans who the state's largest labor union left alone? Meehan, Murphy, and Rep. Bill Shuster (R-Blair).
Both Maggi and George Badey, the attorney challenging Meehan, say they're very happy with the labor support they've received so far and dismissed the super PAC.
"This outside group doesn't represent Pennsylvania, it doesn't even advocate for Pennsylvania," wrote Maggi in an email to supporters. "Want to know where they're based? Indiana. Further proof that Tim Murphy is so out of touch with this district, that he can't even get the support from the people of Southwest PA.
Pat McGarrity, Badey's Campaign Manager, added that Meehan is no friend to labor.
"Pat Meehan signed a pledge to keep tax breaks for companies that ship our jobs to places like India and China, and he voted to end Medicare as we know it," he said. "This group isn't from around here so maybe they don't know his record, but Pat Meehan is no friend to working families. Let's call this what it is: It's a blatant attempt by out-of-state special interest money to come in and whitewash Meehan's disgrace of a voting record."
Update: Pa. Democratic Party spokesman James Hallinan chimed in, too.
"Congressman Tim Murphy and Congressman Pat Meehan's votes don't lie, they're both clearly anti-working families voting twice for the Ryan budget plan that would make workers pay more for their retirement. However, they are both very pro-outsourcing of Pennsylvania jobs to places overseas– and even use Pennsylvanians' tax dollars to do so," he said.