http://youtu.be/MsuY7j6A8H4
Update: above is a copy of Papenfuse's second ad, which is running in rotation with the one below. The ad above equates Miller and Thompson.
Miller dismissed the charge. "The fact that the Mayor and I voted the same way on routine city business in the past has no bearing on our differing visions for the city's future.  And it is the city's future which is at stake in the upcoming election," he said.
—-
And the first Harrisburg mayoral hopeful on TV is… businessman Eric Papenfuse. He hit the airwaves with a biographical ad that emphasizes his outsider status.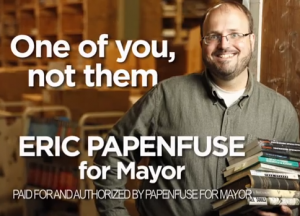 "We'll never create jobs and see change if we keep electing career politicians. I'm Eric Papenfuse. I'm one of you, not one of them," he says. The spot uses graphics and still images, which is less expensive than setting up a film shoot.
Papenfuse owns and operates the Midtown Scholar Bookstore in midtown.
The ad was produced by Washington, DC-based Devine Mulvey. Last year, the firm made commercials for state Sen. Rob Teplitz's successful Harrisburg-area campaign.
Papenfuse is challenging Mayor Linda Thompson in the May 21 Democratic primary along with City Controller Dan Miller and political neophyte Lewis Butts.
It's a small buy. FCC filings from the local ABC affiliate show Papenfuse's campaign spent $2,000 last week and this week on that station during morning and evening news broadcasts. Either he isn't advertising on other stations, or those stations have not yet filed with the FCC.
He's probably on cable, too; all of Harrisburg's Democratic voters reside in just two cable zones. But cable advertisements aren't subject to FCC disclosure requirements.
http://youtu.be/LHGF2jddw_k