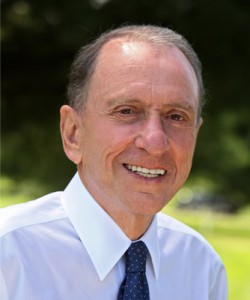 Update: Specter is out of the hospital, reports NBC. Here's the story:
According to a family friend of former Pennsylvania Sen. Arlen Specter:

Early in the week of July 15th, the former senator collapsed while playing squash. He required emergency surgery to remove a growth in his abdomen that was effecting his breathing.

At that time, doctors discovered the reemergence of an aggressive cancer. He was severely ill with an infection following surgery and at one point that same week was not expected to survive even hours.

Defying all medical expectations, since that time, he has responded remarkably well to vigorous chemotherapy and has been moved to a rehabilitation facility. He does go to the hospital for treatments, but is not currently in the hospital.

*** UPDATE *** Vicki Siegel Herson, a former Specter staffer says, "Anyone who knows Arlen Specter knows never to count him out as he will never ever give up."
Former Senator Arlen Specter confirmed today that he is battling cancer for a third time.
"I am battling cancer, and it's another battle I intend to win," Specter said in a statement issued by his office, according to the Philadelphia Inquirer. "I am grateful for the well wishes I have received and I am looking forward to getting back to work, to the comedy stage, the squash court and the ballpark."
The Inquirer reported Monday that Specter had been hospitalized.
Specter, 82, was diagnosed with Hodgkin's lymphoma in 2005 yet continued his high-profile work on the Senate Judiciary Committee. In April 2008, he announced that his cancer had returned.
CNN reported that this current episode is a, "serious form of cancer," according to a source close to the Senator.
Specter served five terms, the longest tenure of any Senator in Pennsylvania history. A long-time moderate Republican, he switched to the Democratic in 2009. He subsequently lost the Democratic primary to then-Rep. Joe Sestak.
His decades-long support for funding of medical research was among the hallmarks of his career, including roughly $30 billion in appropriations to the National Institutes of Health.
Prior to serving in the Senate, he served two terms as Philadelphia District Attorney.
Full disclosure: Keegan Gibson worked for Senator Specter's re-election campaign as Director of New Media from February 2009 to May 2010.