By Keegan Gibson, Managing Editor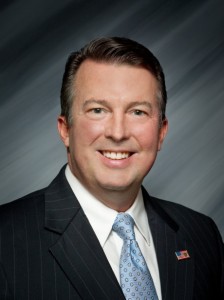 Pa. Senator Jeff Piccola made map-drawing much easier for his colleagues when he announced his retirement last month.
The initial version of his district, dubbed the "Harrisburg Horseshoe," the the city out of his district in favor of an awkward half-circle through five counties. It drew more criticism than any other part of the map.
The new version of the 15th is still safely Republican, but much more compact. It's based in Dauphin County (but doesn't include the city), has a sizable chunk of York, and bits of Adams and Lancaster.
And the question is: who will represent it.
The first candidate came out of the gate today: John McNally, Chairman of the Dauphin County Republican Committee.
Born and raised in Dauphin County, McNally has run a strong party organization since he took charge in 2006. He's currently a partner at He is a partner in Thomas, Thomas and Hafer, LLP of Harrisburg.
He thanked Piccola In his announcement statement.
"It is my goal to advance his legacy of reform with the goal of preserving our shared South-Central Pennsylvania values and growing our economy so that we may provide safe and prosperous communities for our families and future generations," McNally said.
As Chairman, McNally is in good position to know how attainable the seat is (i.e. whether he has a shot, or whether he'd be cutting in line). Buzz at Pa. Society was that party leaders have given Rep. Ron Marsico dibs on the GOP nomination if he wants it. Also keep an eye on Rep. Seth Grove.
McNally and Marsico both live in Lower Paxton Township, so if Marsico does decide to run, McNally would be eligible seek his seat in the Pa. House.
Update: 2010 Lieutenant Governor hopeful Steve Johnson is also preparing to launch a bid for the 15th district, he told PoliticsPA Thursday night. Johnson, 48, lives in the York County portion of this district. He founded a building inspection company and is the father of four. He came in fourth out of a crowded 9-person primary field for LG. He said he would make an official announcement in the new year.
"It's not the land, it;s the man," he said, referring to the fact that the 15th district is comprised 58 percent by Dauphin County. "I've already been a proven candidate, and that's where I stand. I will run extremely hard."
"People see Harrisburg as a den of establishment people, and now we're seeing that they can't get anything done. We just saw it with vouchers being defeated. Our state stores – where's that vote? Where's the right to work vote? Where's property tax reform? We have both chambers, we have the Governor's mansion, and nothing's getting done."
Democrat Rob Teplitz, who had sought to challenge Piccola, lives in Susquehanna Township which is not part of the 15th district.
Here are the five members of the Pa. House who live in the 15th Senate district:
Ron Marsico (Lower Paxton Township, Dauphin County)
Seth Grove (Dover Township, York County)
Will Tallman (Reading Township, Adams County)
Keith Gillespie (Hellam Township, York County)
John Payne (Derry Township, Dauphin County)