Update: Sean Wiley launched his own spot blasting Anderson over her ad.
—-
Janet Anderson, the Republican running to replace retiring Sen. Jane Earll (R-Erie), is pulling punches no longer. Her latest television ad – and accompanying website – blast Democrat Sean Wiley for his time working in Erie County government.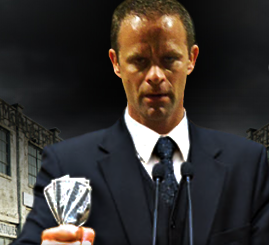 An announcer ticks off a laundry list of charges from Wiley's work as the director of Administration for the Erie County Executive's Office from 2006 to 2009.
"Under Wiley's management, property taxes rose 22 percent. Spending was out of control. And Wiley left us $92 million in debt. Then Wiley gave himself a huge pay raise, paid for by raising our taxes," she says. The commercial blames Wiley for the 7,700 jobs Erie County lost during his tenure.
Republicans characterized the ad as a counterattack, a response to a negative mailer sent out by the Pa. State Education Association which suggested Anderson would vote the party line in Harrisburg.
Wiley's campaign loudly refuted the ad's claims, noting foremost, "at no time did Wiley ever hold an elected role in Erie's government, and at no point was he ever responsible for making the decisions that our elected leaders made."
Each of the policies noted in the ad, he continued, fell under the purview of County Council – not the Executive.
"Anderson's current ad is the worst type of negative politics," said Wiley. "If she is willing to spend tens-of-thousands of dollars deceiving the voters about my record in Erie County government, it proves that she's willing to say or do anything to win this election – and that's not the type of leader Erie needs."
Update: Anderson's campaign pointed to a recent mail piece from Wiley's campaign in which the Democrat boasts of his work for the County Executive – and the County's $380 million budget. Further, though the County Executive does not write the County budget, he does sign them.
The race is bound to grow more heated. Democrats, long a shrinking minority in the Pa. Senate, have the opportunity to make gains this cycle. The Erie seat is ground zero and Dems' top pickup target.
Anderson is a former staffer for Earll and also Tom Ridge, another moderate Republican Erie Countian. Most recently, she served as Executive Director of the Northwest Pennsylvania Regional Planning and Development Commission.
Until this week, her campaign was mostly positive – portraying her as an Earll-style moderate problem solver. Both she and Wiley have been on television for weeks.
But that may not be enough to keep the seat in the GOP column, hence the decision to switch to an anti-Wiley message.
The only polling of the race made public so far comes from Wiley's campaign, and shows him leading the race 53 percent to Anderson's 37 percent. Though it's an internal poll and should be taken with a grain of salt, the fact remains that the district provides a healthy registration advantage to Democrats and that President Obama is expected to do well here.