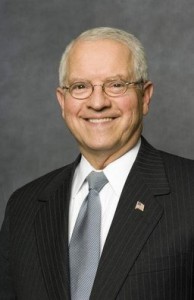 For the second time in fourteen months, Gov. Corbett will get a new Chief of Staff.
Steve Aichele, who served in the role since May 2012, will step down this summer. He may be replaced by Leslie Gromis-Baker, a longtime GOP strategist who was Tom Ridge's 1998 campaign manager.
The Philadelphia Inquirer reported the news, as did the Associated Press. Each cited anonymous sources close to the Governor's office.
Update: Corbett's office confirmed the staff shakeup Wednesday:
"In her years of public service, both state and federal, as well as her time in the private sector, Leslie Gromis Baker has mastered the details of effective political management and leadership, skills she will bring to the demanding position of chief of staff,'' Corbett said.
"Steve has provided a spark and energy to the administration, and staff members will long remember his enthusiasm and optimism," Corbett said. "I'm grateful that Steve, who initially came on board as general counsel and, upon Bill Ward's departure for a judicial post, took on the new responsibilities of chief of staff and dove in with enthusiasm and ambition into his duties."
As an interesting quirk, both Aichele and Gromis-Baker have politically connected spouses. Carol Aichele is Pa.'s Secretary of the Commonwealth. Scott Baker is the VP of Government Affairs at UPMC.
Another forthcoming departure: Corbett legislative liaison Christopher Carusone.
Update: Corbett also confirmed Carusone's departure.
"I am especially grateful to Chris for giving us an extra year of service. He intended to leave for the private sector last year, but delayed his departure at my request in order to take on the role as legislative secretary," Corbett said.
The staff changes come as Corbett looks uphill at his 2014 re-election chances. The Governor fell short on three major legislative priorities in June, and his poll numbers have consistently been very low.