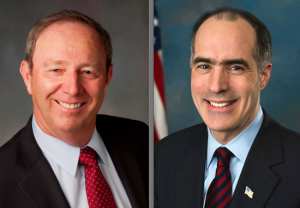 Senator Bob Casey leads GOP challenger Tom Smith according to the latest survey from Rasmussen.
The freshman Democrat lead Smith, a former coal company owner and Tea Party leader, 49 percent to 38 with 9 percent undecided.
Update: Here are the crosstabs.
Casey leads among men (53 to 41 percent) and women (46 to 36 percent) and most of the other groups surveyed.
Smith leads among voters ages 40 to 64 (48 to 43 percent), white voters (45 to 42 percent), voters making between $20K and $40K per year (46 to 44 percent) and voters making over $100K per year (47 to 43 percent).
Casey is viewed favorably by 56 percent of voters surveyed, unfavorable by 34 percent and 10 percent said they weren't sure. Smith's favorables are 41 percent positive, 29 percent negative and 29 percent are unsure.
Other numbers on the poll include opinions on the health care law. Voters believe it will be bad for the country by a 49 to 42 percent margin, and favor its repeal by a similar margin of 50 to 45 percent. Casey, who voted for the law, is actually ahead among voters who somewhat favors its repeal by a wide margin: 46 to 21 percent.
There is silver lining for the Republican: some of Casey's lead comes from the segments of the population that know the least about Smith. 23 percent of those who somewhat favor repealing Obamacare, 17 percent of younger voters, and 17 percent of lower income voters are undecided.
On the economy, 30 percent of voters believe things are improving compared to 47 percent who believe things are getting worse.
It's also the latest of a number of polls that put Governor Tom Corbett's job approval in double digit negative territory. Those with an unfavorable view of the Guv outnumber those who support his job thus far by a 20 point margin, 57 to 37 percent. 35 percent of voters disapprove strongly of his performance compared to just 10 percent who approve strongly. 27 percent somewhat approve, 22 percent somewhat disapprove.
It's actually a slight tick down for Smith from the firm's previous poll of the race in May. Then Casey lead Smith by just 7 points, 48 to 41. Most public polling has shown the race with about a 14 point spread in Casey's favor.
The pollster talked to 500 likely voters on July 18, 2010. The margin of sampling error is +/- 4.5 percentage points with a 95% level of confidence. Fieldwork for all Rasmussen Reports surveys is conducted by Pulse Opinion Research, LLC.