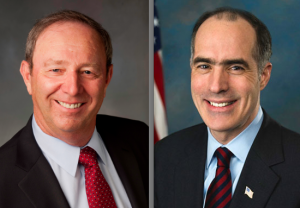 Sen. Bob Casey is just shy of a double digit lead over Republican Tom Smith according to a new survey by the the Siena College Research Institute. He leads his challenger 44 percent to 35; 16 percent of voters said they didn't have an opinion or don't know.
"Bob Casey has a lead well outside the margin of error over Tom Smith and is ahead in the Philadelphia area as well as in northeastern PA and in the west," said SRI Director Don Levy.
Siena surveyed 545 likely Pa. voters from Oct. 1-5 via landlines and cell phones.The margin of error is plus or minus 4.2 percent. The pollster says data has been statistically adjusted to reflect party registration, gender and age.
Both candidates are viewed positively. 40 percent of respondents have a favorable opinion of Casey compared to 34 who have an unfavorable opinion; 26 percent don't have an opinion. Smith is viewed favorably 27 percent to 26; 47 percent don't have an opinion of him.
Men are split in the race, 41 percent for Casey and 41 for Smith. Women tilt Casey's way by a massive 17 points, 47 percent to 30. That has a stark impact on the topline because the poll's sample comprises 10 percent more women than men, 55 percent to 45.
Casey is also locking down his two bases: northeast Pa. and Catholics. He leads in NEPA 63 percent to 19. He leads among Catholics 56 percent to 28 (5 points better than Obama).
Here's the regional breakdown:
Northeast: Casey 63, Smith 19
Philadelphia: Casey 55, Smith 11
West: Casey 49, Smith 37
Southeast: Casey 37, Smith 43
Central: Casey 33, Smith 42
Smith has made headway in several polls recently, enough that he shrunk his deficit to Casey from 15 points on average to about 7. This same Siena poll showed Mitt Romney merely 3 points behind Barack Obama, so it doesn't appear to have an innate lean in favor of one party – meaning it's a bump in the road for the "Smith surge" narrative.
Update: we talked with SRI, and found that their regional breakdown of Pa. is significantly different than other pollsters. Case in point: heavy GOP population centers like Lancaster and York counties are included in the "Southeast." Here's a map of Siena's regions: