By Ali Carey, Contributing Writer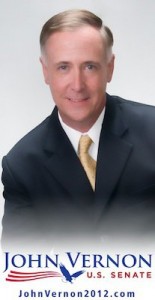 Army Colonel Ret. John Vernon, of Tioga County, announced that he will suspend his campaign for the U.S. Senate on Monday evening.
"After six months of being on the campaign trail, I've looked back upon the personal toll this journey has taken on my family and the sacrifice they have made to support my decision to run for the United States Senate. Now, after a lot of reflection and prayer, it is my time to support them, which is why I've made the decision to suspend my campaign," Vernon said.
Vernon has served in the U.S. Army for 32 years, including in Iraq and in the Balkans. He had attained the rank of Colonel before retiring a year ago.
Despite his steep climb to the GOP nomination as a first-time candidate, Vernon has done well. He raised over $100,000 in the third quarter, and had a good network of support among Republicans in Pa.'s the northern tier.
In early November, Vernon kicked off his  "100 Businesses in 100 Days" tour.  He received the unanimous support of the Tea Party USA Erie Chapter and in September Vernon released an internal polling memo showing voters believed he would be a viable challenger to incumbent Democratic Sen. Casey in the general election.
That said, he was at his height a middle-tier candidate, and not seen as a serious contender for the nomination against a field of self-funders and prior candidates. There are now nine candidates in the Republican primary to face Sen. Bob Casey.
Vernon said he will endorse one of the remaining Republican candidates for Senate in the coming weeks.