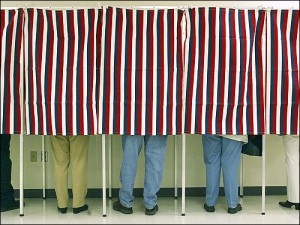 The numbers are in for last week's primary and they aren't particularly impressive.
A total of 1,532,756 ballots were cast statewide out of the 8,032,363 registered voters in Pennsylvania.
That comes out to a 19.08% turnout rate. So less than one in five registered voters showed up to the polls last Tuesday.
Acting Secretary of the Commonwealth Pedro Cortes, however, did have two pieces of good news to deliver. The first is that there was no need for recounts.
"The winning margins were sufficient in the statewide judicial races that I have certified there will be no automatic recounts," Cortés said. "The counties did a tremendous job in reporting unofficial results to us in a timely manner."
Additionally, the state's new election website was also a big success. Between 8 p.m. and midnight on Election Day, the site received 2,953,060 hits.
"The changes to the website have made it easier than ever for users to find precise numbers," Cortés said. "We are extremely pleased that so many people were able to put the website to good use and look forward to continued improvement of this in-demand service. We encourage users of the site to give feedback on the re-design and additional features desired."