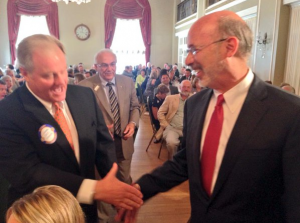 State Senator Scott Wagner has never been accused of being a shy person.
So it shouldn't have been surprising when at the GOP's annual winter meeting, Wagner had this to say about how Republicans in the legislature treated Gov. Wolf during the budget stalemate:
We had him down on the floor with our foot on his throat and we let him up. Next time, we won't let him up.
I was covering the event last weekend and tweeted out that quote shortly after Wagner said it. Within minutes, the Wolf Administration was condemning Wagner's language and fundraising off of it.
Therefore, you would expect Wagner's first email message to supporters since then to address the quote in some way. It did not, although he has defended his remarks in other outlets. Instead the State Senator delivers a long, honest explanation on why he is so passionately opposed to the Governor.
After apologizing for the length of the message, Sen. Wagner proceeds onto his major theme: that while he had to work hard for everything in his life Tom Wolf is a spoiled, child of privilege.
"Governor Wolf was born into an upper class family, he attended a private high school, attended Ivy League colleges and by all accounts, had a privileged upbringing," Wagner writes. "He was also given an opportunity to buy his family's business which was started over 100 years ago."
"My background is much more humble – I grew up on a farm, graduated from Dallastown High School, and only attended college for one year," he continues. "In fact, I was not a very good student because I loved to work at my parents' farm and neighboring farms, my uncle's construction business, and I wanted to learn how things worked in the real world."
This is only the beginning of a long Nixon-esque harangue about the difficulties Wagner encountered establishing his own business.
"Nothing has been handed to me," he states at one point.
He goes on to denounce Wolf's decision to veto the Republicans budget plan and reveals that he is loaning money to York charter schools.
"It is time to take off the gloves with Governor Wolf and get out on the field and settle this once and for all," Wagner declares.
"My job is to fight the war for all Pennsylvanians and protect middle-class citizens," the State Senator concludes. "Welcome to the arena Governor Wolf."
What makes the message so extraordinary is not the negativity or the attacks, hyperbolic emails have been standard fare for all politicians for years now. Rather it is the personal nature of the message that is so rare.
Through his own words Wagner paints a portrait of two individuals, who despite both being from York County, have such diametrically opposed experiences and value systems which prevent any possibility of cooperation. As a result, it provides some insight into why the two parties can't come to any consensus.