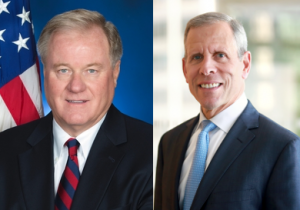 State Senator and Gubernatorial candidate Scott Wagner (R-York) immediately went on the offensive against Allegheny county businessman and newly declared Gubernatorial candidate Paul Mango.  Wagner's campaign is pushing back against Mango's message of fixing Harrisburg.  
"Paul Mango agrees with Scott Wagner. Harrisburg is broken, and it needs fixed. I guess imitation is the sincerest form of flattery, but voters want the real deal when it comes to standing up for Pennsylvania taxpayers," Wagner's campaign manager Jason High said in a release.  
In the release, Wagner's campaign touts his message of "Harrisburg is broken and needs fixed" as being seen throughout his campaign.  
The release comes the morning after Mango officially announced his bid for Governor next year.  
Wagner's choice to go after Mango for his messaging is reminiscent of Trump's "I alone can fix it" from his speech at the Republican National Convention last year.  
Messaging that Harrisburg needs to be fixed is not new to Gubernatorial elections in Pennsylvania.  In the 2014 election, Tom Corbett and Tom Wolf used similar messages.  Corbett ran his 2010 campaign on the same message.  
Wagner's campaign points to his time in Harrisburg changing and the money he donated to Republican candidates.  Whether he continues that attack if state House Speaker Mike Turzai (R-Allegheny) jumps into the race is unclear.