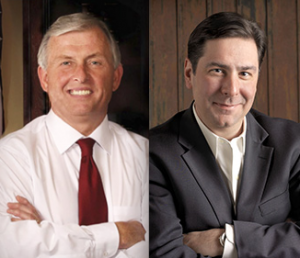 The fundraising reports are in. Former Auditor General Jack Wagner has raised $1.24 million so far in his race for Pittsburgh Mayor, with City Councilman Bill Peduto at $1.01 million.
The difference in the race is roughly $371,000 that Wagner transferred from the statewide campaign committee he used to run for Auditor General and Governor.
The report, the final one mandated between now and the May 21 election, covers Feb. 1 through May 6. The numbers below cover the time period of the entire campaign.
Wagner's is the first campaign report to be posted on the Allegheny County Board of Elections website. Peduto's numbers come from the Peduto campaign. Numbers for activist AJ Richardson have yet to be posted.
Jack Wagner
Raised: $1,236,649.40
Spent: $927,288.93
Cash on hand: $309,360.50
Wagner's biggest donors are labor unions and local officials, much of the infrastructure that boosted Mayor Luke Ravenstahl in the past (State Sen. Ferlo gave him $10,000). He's also the clear choice of Republican interests in the race. State Sen. Don White (R-Indiana) gave him $5,000 and the pro-life group Family PAC gave him $2,500. Range Resources chipped in, too.
Bill Peduto
Raised: $1,015,353.83
Spent: $757,926.41
Cash on hand: $257,427.42
His campaign is boasting that they have nearly 2,000 individual donors. His biggest supporters are County Executive Rich Fitzgerald ($50,000), something called WUF PAC ($45,000) and the SEIU ($25,000).
Mayor Ravenstahl also filed a report. Though he's not seeking re-election, he has taken an active role in the campaign via his PAC Citizens for a Better Pittsburgh.
Luke Ravenstahl
Raised: $32,216.30
Spent: $377,728.85
Cash on hand: $564,182.58
He transferred $151,000 to CFB a few weeks ago and paid for polling in mid-April, long after his decision to drop out. He also gave $10,000 to Wheatley's campaign and $2,500 to Willie Reynolds, a Peduto-style technocrat running for mayor in Bethlehem, Pa.
And the Post-Gazette reports his committee plans to continue running TV ads against Peduto, to the tune of at least $70,000. Reports for the Committee for a Better Pittsburgh haven't yet been posted.
Jake Wheatley
Raised: $62,180
Spent: $21,129.94
Cash on hand: $41,050.06
Debts: $14,090.00
A quick note: generally speaking campaign finance reports – especially in the closing days of an election – tend to overstate cash on hand. They can do that by delaying payments to vendors (like TV stations) by a few days or weeks.