Jack Wagner sought to get distance from Ravenstahl-Peduto bickering in his latest ad. It's part of his ongoing effort to cast himself as the adult in the room.
With Mayor Luke Ravenstahl's PAC doing the heavy lifting in attacking Bill Peduto, former Auditor General Wagner is free to stay positive.
"There's a lot of noise out there right now, but which candidate is talking about what they will do for Pittsburgh? Only Democrat Jack Wagner," says a narrator over b-roll of ads aired by City Councilman Bill Peduto as well a PAC chaired by Mayor Luke Ravenstahl.
Among other policy objectives the narrators lists, Wagner would bring "a City Hall with civility and diversity. Jack Wagner. Sounds pretty good doesn't it?"
The ad is crammed with information, much more than a typical 30 second spot. Its aim appears to be to give the impression of a candidate who can say, "We don't need to run negative ads or pick fights, because look at all our ideas!"
Thus far in the campaign, Peduto has actually been the ideas candidate. That was the theme of his first TV ad. But his tactical need to deflate Wagner's numbers mean he can't afford much to spend much TV time defining himself.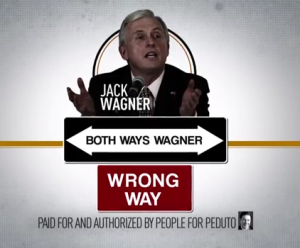 Peduto's latest ad (below) reiterates his criticism that Wagner supported the Harrisburg GOP during budget discussions. However, the ad rephrases earlier claims that went afoul of fact-checks.
"He says he supports senior programs. But Wagner sided with the GOP on the budget," says the narrator. "The Post-Gazette says, 'that position logically means that fewer dollars would have available to spend on all kinds of programs, including Meals on Wheels.'"
Peduto's newly phrased attack is accurate. But his tactical position in the race isn't much improved.
Peduto is spending about $90,000 per week on ads. Wagner is spending $63,000 on his own ads, while Ravenstahl's PAC the Committee for a Better Pittsburgh is spending $75,000 per Jon Delano.
Lest critics cry foul, Ravenstahl said in a facebook comment that he would use his $900K warchest to beat up Peduto. Since that's public information, it's fair game for Wagner's campaign to incorporate that knowledge into its ad plans.
State Rep. Jake Wheatley and activist AJ Richardson are also running in the Democratic primary.
Here's the Peduto ad: