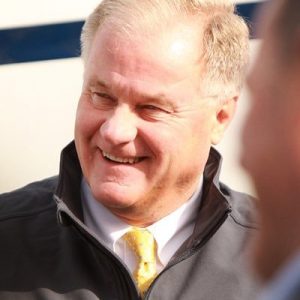 Slide to the left. Slide to the right.
Although education has taken center stage of the debate for Governor between incumbent Democrat Tom Wolf and GOP challenger, Scott Wagner, a couple of new issues join the party this week.
Abortion and climate change. Wagner remains firm on one, while shifting his rhetoric on the other.
Wagner has been a known skeptic of climate change for quite some time. Last year, while he was a state Senator, he expressed his uncertainty towards the topic.
"I haven't been in a science class in a long time, but the Earth moves closer to the sun every year — you  know, the rotation of the Earth. We're moving closer to the sun," Wagner said. "We have more people… you know, humans have warm bodies. So is heat coming off? Things are changing… but I think we are, as a society, doing the best we can."
A few weeks ago, Wagner's town hall meeting in Montgomery County made headlines after he was asked by college student Rose Strauss about his stance on climate change.
"Rose, you know what?" said Wagner. "I appreciate you being here and you're 18 years old. And, you know, you're a little young and naive."  
The Wolf campaign quickly capitalized on this response as Democrat Lt. Governor candidate Mayor John Fetterman posted a picture of the two wearing a "young and naive voter" shirt.
.@WolfForPA was nice enough to buy me a tie; I bought him an official "Young and Naive" Voter T-shirt. pic.twitter.com/4JaljQia4R

— John Fetterman (@JohnFetterman) July 27, 2018
This week, Wagner and his running mate, Lt. Governor candidate Jeff Bartos, fielded questions on climate change at a town hall meeting in York.
"Listen, climate change is happening," Wagner said. "But let's be realistic. I don't have an agenda to go to a complete 100 percent renewable energy program because it's not realistic."

In a press release, Wagner's campaign posted the transcript and video of this exchange while simultaneously taking a shot at Wolf for not responding to a similar question from Rose Strauss as he entered an event in Delaware County.    
On the topic of abortion, Wagner appears to be solidifying his support for the overturning of Roe v. Wade.
Reported by PennLive this morning, a video shows Wagner being asked if he supports President Trump's nominee, Brett Kavanaugh for the Supreme Court, and his support for overturning Roe v Wade.
"The answer to that question is that I support President Trump's pick and whatever happens on the Supreme Court, again I can't sit here and predict and I'm not a lawyer, but I'm 100% pro-life and I support the president's pick," Wagner said.
Wagner has made his pro-life stance clear, but when he was asked about the possibility of overturning Roe v Wade a couple weeks ago, he responded to WHYY's Dave Davies with a less firm stance.
"You know, that's a federal issue," Wagner said to Davies. "I'm not running for president right now. I'm more focused on the problems in Pennsylvania."
When Davies followed up to ask if an abortion ban were to reach his desk, Wagner stated, "It may, and whatever happens, happens. Right now, in this interview, I'm not committing to anything."