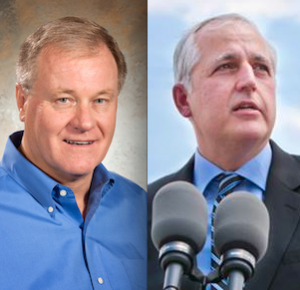 The conservatives-versus-moderates battle among State Senate Republicans started early – and publicly. When the chamber convenes after the election, Sen. Scott Wagner hopes to unseat Sen. Dominic Pileggi as Majority Leader.
Wagner (R-York), who took office following a special election in March, wrote a letter to Pileggi (R-Delaware) openly declaring his opposition on Monday.
"The bottom line is this: I have concluded that it is not in the best interest of Pennsylvanians for you to continue as Senate Majority Leader," Wagner writes.
"Contrary to past and current practices in Harrisburg, I am expressing my opinion in writing to you, rather than engage in back-stabbing and lies."
Pileggi took the unexpected step of forwarding the letter to all of his Republican colleagues according to PA Independent, which first obtained the memo.
Wagner's letter accuses Pileggi of deliberately denying Governor Tom Corbett legislative victories. He attributes Pileggi's refusal to bring paycheck protection legislation – a conservative priority that is fervently opposed by labor unions – to the Majority Leader's support from unions, including $175,000 he has received from IBEW Local 98.
"I view this as an internal caucus matter, not something to be debated in the media," Senator Pileggi told PoliticsPA.
Wagner's opposition to Pileggi comes as little surprise. As a private citizen he was a major donor to anti-establishment candidates and causes such as the Citizens Alliance of Pennsylvania. He characterized his special election write-in campaign as a referendum on GOP leadership in Harrisburg. State Rep. Ron Miller, Wagner's GOP opponent, had the full political and financial backing of Pileggi and the Senate Republican Campaign Committee.
The challenge is the latest chapter in the ongoing tension between the chamber's conservative Republicans, who primarily hail from western and central PA, and its relatively moderate Republicans, who tend to represent areas of eastern PA.
Pileggi has his work cut out for him as he seeks re-election to his position. A series of retirements and electoral defeats has moved the Senate GOP in a more conservative direction since the last time the caucus saw a contentious leadership election in 2006.
Pileggi was re-elected in 2012; Wagner is a strong favorite to win election to a full term in November.
Full disclosure: Wagner advertises on PoliticsPA. Pileggi has advertised on PoliticsPA in the past.