Pittsburgh Mayoral Candidate Jack Wagner's new TV spot shoots for a younger audience and employs his daughter to do so.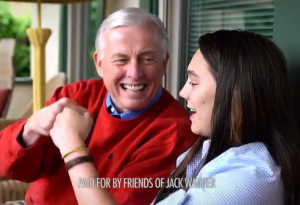 The ad is titled "Sara" and opens with his daughter straight-to-camera.
"I'm Sara Wagner. My dad's Jack Wagner and he's running for Mayor. He knows what's important to young people like me. He's evolved a lot on social issues and I'm really proud of him," she says.
"And this is the first election that I get to vote for him, and that's pretty cool."
The ad ends as the two of them do a fist bump.
In this all-positive ad the goal is to show his understanding of young adults given that Wagner, 65, is the father of a college age child himself. It's also an apparent effort by Wagner to contest the political base of his chief opponent City Councilman Bill Peduto, who polls have shown with a consistent lead among younger voters.
It as well shows off Wagner's endorsements by both the The Pittsburgh Post-Gazette and The Pittsburgh Tribune-Review. The content highlights Wagners theme of working with everyone to help every neighborhood. It ends with a father daughter fist-bump.
The ad references Wagner's change of heart over controversial social issues, although he hasn't spoken much about such issues over the course of the campaign. He was endorsed in this race by LifePAC, which opposes abortion, and received a $2,500 contribution from the group.
This comes after the debut of a negative ad targeting Peduto, from Mayor Luke Ravenstahl chaired PAC, Citizens for a better Pittsburgh.
In the most recent Keystone Analytics poll, Wagner was at 32% behind Peduto, at 39%. State Rep. Jake Wheatley had 8% and activist AJ Richardson had 1%. 18% of voters remained undecided in the race.