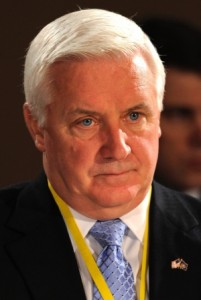 We're number 1! The Washington Post says the Pennsylvania is the most likely state in the country to see a party switch in the Governor's office.
The Fix cites Gov. Tom Corbett's string of bad polling as the reason he moves to the top of the list for the first time in the 2014 cycle.
It's been a steady climb. WaPo rated him number 3 in June and number 5 in July.
Here is the Washington Post writeup:
1. Pennsylvania (R): Gov. Tom Corbett (R) moves to the No. 1 spot for the first time this cycle after a month filled with truly terrible polling data. A Quinnipiac poll showed him with a 38 percent approval rating and trailing little-known (statewide, at least) Rep. Allyson Schwartz (D) by 10 points; a poll from GOP pollster Public Opinion Strategies showed him down 12 points; and a poll from GOP automated pollster Harper Polling showed just 24 percent of Pennsylvanians said he deserved reelection. We might actually be getting to the point where Republicans would be better served running someone else. (Previous ranking: 3)
The top 5 most likely to flip are:
1. Pennsylvania (R)
2. Florida (R)
3. Maine (R)
4. Arkansas (D)
5. Michigan (R)