UPDATED: Was the Club for Growth Wrong To Take on Tim Murphy?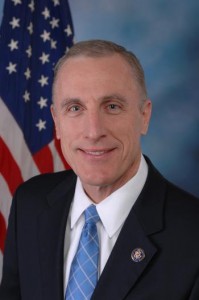 By Michael Begg, Contributing Writer
Update: Club for Growth was quick to send us this post from 2009, in which John Feehery wrongly writes that Pat Toomey would not win the general election if selected as the Republican nominee for U.S. Senate in 2010.
John Feehery, who worked for top Republican House leadership for fifteen years, wrote an op-ed in The Hill in which he stated that he believes that Club for Growth's actions could lead to the loss of seats in the U.S. House and Senate. The organization could cause problems for incumbent Republicans by backing ultra-conservative candidates in the upcoming primaries. The Club for Growth describes itself as, "a national network of thousands of pro-growth Americans, from all walks of life, who believe that prosperity and opportunity come through economic freedom." Some of their latest ads have targeted Congressman Tim Murphy, the Republican from the 18th congressional district.
Along with Rep. Murphy, C4G has run ads against senior Republican Senators Orrin Hatch and Dick Lugar. Instead of using their campaign funds to support fellow Republican candidates, their time and effort is being focused on battling conservative candidates challenging for their seats. If Sen. Hatch did not emerge from the Utah Republican convention as the winner or Sen. Lugar did not win the primary in Indiana, it would have ramifications on the party's chances in November.
Feehery wrote that "[Tim] Murphy is another reliable conservative vote. He doesn't rock the boat, he doesn't lead insurrections from the left, he doesn't vote for tax increases. He did throw a vote or two to labor, but he did that because labor is kind of a big deal in Pennsylvania. If you don't believe me, ask Rick Santorum why he voted against right-to-work legislation. If Murphy loses the primary, Republicans will lose the seat."
There was a $500,000 pro-Murphy ad run by the American Chemistry Council that concludes Wednesday. The Club for Growth then ran ads criticizing Murphy's votes for the "card check" legislation in 2007 that would make it easier for employees to unionize. In another ad, Murphy is criticized for another vote in which the Congressman voted in favor of controversial earmarks.
Murphy's campaign manager James Genovese stated that "Those who know Congressman Murphy's record the best, which are his constituents right here in Pennsylvania's 18th congressional district, continually elect him by wide margins because they want him to keep on fighting the liberal Obama-Pelosi agenda, and keep standing up for conservative Southwestern Pennsylvania values," that reflect the labor heavy nature of the district.