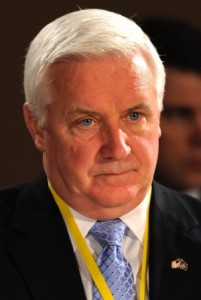 The Washington Post hasn't been shy in providing Governor Tom Corbett with bad news in the past year, and this July, for the thirteenth month in a row, they named him the U.S. governor most likely to receive the boot in November.
The Post's blog The Fix named the twelve governor's races most likely to result in a change of party control, with PA at the very top. While the descriptions of the eleven other races include several sentences including factors such as fundraising and party rifts, the descriptor of  the Pennsylvania race is just a single sentence.
"Gov. Tom Corbett (R), quite simply, needs a small miracle to beat Democrat Tom Wolf," writes the Post, which includes a link to the race's current poll numbers.
Corbett, though, isn't the only Republican gubernatorial incumbent in danger of losing the re-election to a Democratic opponent. According to The Washington Post, GOP governors Paul LePage of Maine and Rick Scott of Florida comprise the rest of the list's top three opportunities. In fact, of the 36 gubernatorial races being held in November, Democrats hold the advantage in eight of the top 12.
Much of this has to do with timing. Four years ago during the 2010 midterms, there was a massive realignment with Republicans picking up 12 seats and Democrats six. Therefore, this November Republicans have to defend 24 seats compared to the Democrats who only have to guard fifteen.