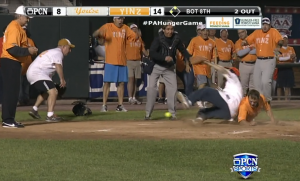 PA legislators faced-off in Metro Bank Park for a great cause on Tuesday as they gathered to play softball and fight hunger.
The Second Annual Capitol Softball game pitted Western PA lawmakers (Yinz) against the Eastern PA lawmakers (You'se). The event was sponsored by Feeding Pennsylvania and Hunger-Free Pennsylvania.
The undisputed defensive MVP was State Representative Mark Rozzi. The freshman Democrat manned shortstop for the You'se and made a number of impressive plays in a game riddled with fielding errors.
The shortened field provided several opportunities for big hits.
The You'se got on the board in top of the 4th thanks to a three-run inside the park homerun from State Senator (and Democratic nominee for Lt. Governor) Mike Stack.
The game, however, was not without its fair share of controversy.
With the Yinz hanging on to a tenuous one-run lead in the bottom of the 7th, Rep. Jim Christiana roped one down the first base line. The ball proceeded to roll out of the fenced-in area and eventually three runs scored.
Some You'se players seemed to think the hit should've been scored as a ground-rule double, and there was the threat that the benches might clear, but ultimately the runs stood. The Yinz wouldn't relinquish the lead.
The game was capped off by the third inside the park home-run when Rep. Tom Sankey channeled Pete Rose on a headfirst dive into home plate that took out You'se catcher Rep. Greg Vitali.
The final score: Yinz 17 You'se 8