What to Watch: Petition Edition
By Keegan Gibson, Managing Editor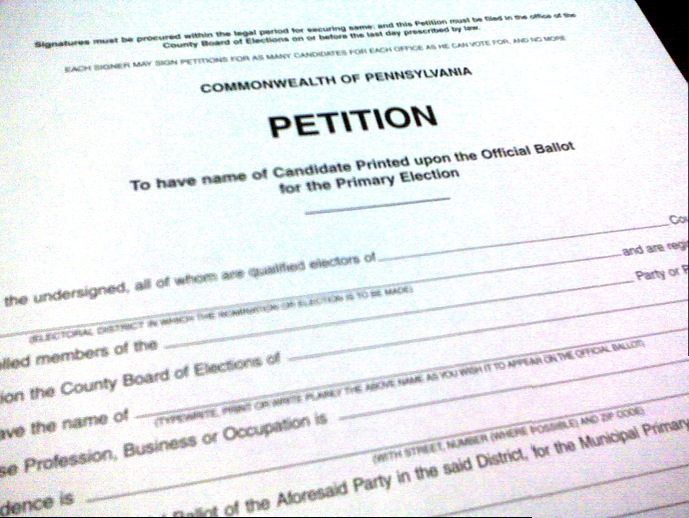 Today is the last day for Democrats and Republicans to turn in their official paperwork and petitions to run for office in 2011. PoliticsPA gives you the list of what to watch.
It should come as little surprise that the biggest fireworks are coming from Philadelphia and Allegheny County
Note: in many of the races below, candidates have already submitted their paperwork. We are including these races because it's difficult to tell where everyone stands until everything is official.
Barbara Ernsberger: Will she run?
Ernsberger ran against the Democratic endorsement in 2009 and won the primary. She lost the endorsement again this year, to Bucks County attorney Kathryn Boockvar, but Ernsberger has given signs that she'll run anyway.
Paul Panepinto: Superior or Commonwealth Court?
Panepinto's been rated by the PA Bar Association for both offices, but endorsed by GOP state committee for neither. It will come down to which race he believes gives him the best shot. And he'll need a good showing petition-wise if he wants to back up supporters' argument that he's seriously invested in a campaign.
Allegheny County Executive
Rich Fitzgerald has run up the score so far. He's banked more money, netted more high-profile endorsements, earned more labor support, and on Sunday he won the endorsement of the Allegheny County Dems. Mark Flaherty needs to make a statement, fast. An impressive pile of petitions would be a good way to demonstrate his strength.
Luzerne County Free For All
Luzerne is transitioning to home rule, so 2011 will be their first election ever for County Council. The level of interest is mind-boggling, with over 3 dozen candidates having indicated their interest. On top of that, the seats of the "Kids-for-Cash" judges are up this year.
Montgomery County Commissioner
Lower Merion Commissioner Jenny Brown has the support of the GOP committee and some big donors, but is she able to out-work State Rep. Kate Harper? Time will tell.
Philly Mayor: Is Milton Street Serious?
Or perhaps more aptly, how seriously does he take himself? See how many different people helped gather petitions when (if?) he files.
Philly Council, District 1
With Sunday's big news that incumbent Frank CiCicco won't seek another term, the field is now wide open. Keep an eye on contenders Joe Grace, Vern Anastasio, Karen Brown, Jeff Hornstein and Dan Stevenson to see who has the most impressive stack of petitions. This will be their first chance to gain momentum since DiCicco backed out.
Philly Council, District 6
Marty Bednarek has the support of outgoing Councilwoman Joan Krajewski, but Bobby Henon has the heavy weight of organized labor behind him. Bednarek had better clear 2,000 signatures if he hopes to avoid a challenge.
Philly Council, District 8
Which of the 20 or so potential candidates will actually file? This is one of the most unpredictable races in the city. It's tough to get a feel for the dynamics of the campaign until the filings are in.
Pittsburgh City Council
The battle lines are drawn. Mayor Ravenstahl's city council candidates won the Democratic endorsements on Sunday (with one exception), but the incumbent council members, supported by labor, are ready to keep fighting. Their filings today will tell us who has more juice in the community.