PA saw just one party flip in our congressional delegation this year, and most incumbents won by a comfortable margin. Republicans have won every competitive seat in the state;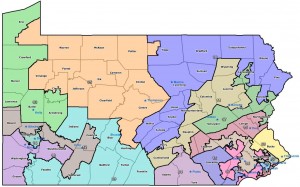 the only Democrats who remain represent safe D seats. With that in mind, PoliticsPA wants to know, which incumbent has the most to worry about in a general election?
Who is the most vulnerable to a general election challenge in 2014?
PA-12: Keith Rothfus (45%)
PA-8: Mike Fitzpatrick (20%)
PA-11: Lou Barletta (8%)
PA-15: Charlie Dent (7%)
PA-3: Mike Kelly (6%)
PA-7: Pat Meehan (6%)
PA-6: Jim Gerlach (5%)
PA-10: Tom Marino (3%)

Loading ...