Why Joe Sestak Will Be the Democratic Nominee Against Pat Toomey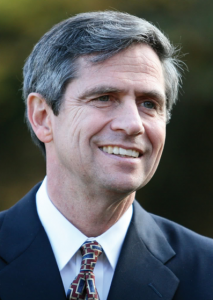 Editor's Note: In response to a piece published last month, J.J. Balaban, a political operative who made the TV ads for Joe Sestak's 2010 U.S. Senate campaign, wrote the following article. In an attempt to expand the scope of PoliticsPA, we will occasionally publish such pieces. We hope you enjoy and appreciate these efforts.
In politics, it pays to watch what people do, rather than what they say. PoliticsPA missed the boat by not following that lesson in its coverage of the 2016 U.S. Senate race earlier this month.
In the six weeks since the mid-term elections, it has become clear that former 3-star Admiral Joe Sestak is the favorite to be the Democratic nominee against Pat Toomey. Credible candidates like Matt Cartwright, Rob McCord, Kathleen Kane, Katie McGinty, and Allyson Schwartz have either announced they would not run or have taken jobs that would preclude them from getting in the race.
While Sestak has garnered significant party support around the state, a handful of party leaders who opposed Sestak's 2010 challenge to Arlen Specter remain cool to his 2016 candidacy. But by focusing on those party leaders who still hold a grudge, PoliticsPA failed to analyze why Sestak is going to be the nominee anyway:
1) Joe Sestak has overperformed in every election he has run
In February of 2006, Joe returned to Delaware County after an absence of 31 years to serve in the Navy, and dismantled longtime incumbent Congressman Curt Weldon by 12% in a district with more Republicans than Democrats that had sent only one other Democrat to Congress since the Civil War.
Once elected, he engineered a legendary constituent service operation that handled four times as many constituent issues as the average Member of Congress….in part by keeping his congressional office open on nights and weekends to handle the needs of working people unable to visit a congressional office during normal business hours. Sestak got re-elected by 20% without spending a dime on direct voter contact beyond yard signs, even though his Republican opponent ran attack ads on TV against him.
In the 2010 Democratic primary, Arlen Specter had the strong support of labor, then-Governor Rendell, Senator Casey, and almost every Democratic interest group…but Sestak surged in one month from a 21% deficit to an 8% victory.
In the 2010 general election, Sestak lost, but once again overperformed relative to the rest of the ticket. Sestak – despite being outspent by a bigger margin than any Senate candidate in America – lost by less than 2% while the Pennsylvania Democratic gubernatorial nominee lost by 9% and 4 Democratic Congressmen lost their re-elections by broad margins (Patrick Murphy lost by 7%, Paul Kanjorski lost by 9%, Kathy Dahlkemper lost by 11%, and Chris Carney lost by 10%).
Given that track record, rank-and-file Democrats would understandably see Sestak – the highest-ranking military officer ever to elected to Congress – as their strongest standard-bearer in 2016….a year in which the electorate will be a lot more favorable than the 2010 electorate in which he only narrowly lost.
2) Sestak is the hardest-working candidate in Pennsylvania politics
After Sestak narrowly lost in 2010, he declined high-paying lobbying jobs that were offered to him. Instead, Sestak went to each of Pennsylvania's 67 counties to thank many of the 18,000 volunteers who had supported his campaign. He has kept up that pace since announcing more than a year ago that he intended to run for the Senate, holding more than 400 events for county commissioners and even school board candidates. He's raised more than $13 million in his 2010 run for the Senate and has already raised $1.2 million for the 2016 campaign.
3)  What is the argument against Joe Sestak's candidacy that would work in a Democratic primary, where his independence is an asset?
Those members of the Democratic establishment cool to Sestak's candidacy have demonstrated in the past several statewide elections in Pennsylvania a complete inability to win primaries. In 2010, Specter was supported by nearly every Democrat of note….and Sestak won. In 2012, most of that same group rallied behind Patrick Murphy to get the Democratic nomination for Attorney-General, but Kathleen Kane beat him handily. In 2014, the Democratic establishment split their support between Schwartz, McCord, and McGinty….but it was Tom Wolf who prevailed handily. (Note: Wolf pulled into such a large lead so early in the process that he attracted some support from the party establishment before the primary election, but he had virtually none before he rocketed into the lead and looked like the clear frontrunner.)
Sestak is better-known and better-liked by Democratic voters and insiders (as a whole) today than he was in 2010, when he toppled Arlen Specter – the longest-serving Senator in Pennsylvania history – despite Specter's huge financial advantage and unanimous support from party leaders. Someone could emerge to challenge Sestak in the Democratic primary, but there's a reason why the past 6 weeks have seen a lot of credible candidates decline to do so.