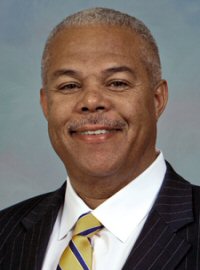 State Senator Anthony Hardy Williams has entered the race for Philadelphia Mayor.
Williams officially announced his candidacy at the Independence Visitor Center last night. He was surrounded by a few hundred supporters.
"We should be lifting up all Philadelphia school students," Williams said to his supporters. "Our families are telling us every day, in every way, they cannot wait for us to fix these schools. It's time for us to get it done, and it starts with all of us, all of us!"
Williams also discussed improving the economy of Philly and changing the way business is done in City Hall. He did not go into specifics, however, he did mention a more detailed plan would be released in the coming months. He wants to get feedback from citizens before releasing that plan.
Williams was first elected to the State Senate in 1999, serving the 8th district. Since 2011, he has been the Democratic Whip of the Senate. Prior to his time in the Senate, he served in the Pennsylvania House from 1989 to 1998.
In addition to Williams, Lynne Abraham, Terry Gillen, and Ken Trujillo have also entered the race for Philadelphia Mayor.