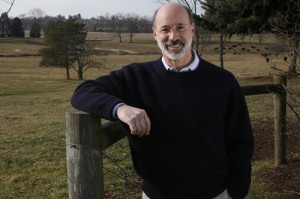 As the Democratic race for governor continues, candidates have begun to more clearly define their agendas. Democratic gubernatorial candidate Tom Wolf, is no exception — illustrating his agenda in a recent Keystone Politics questionnaire.
The ten question survey is identical to the one that prospective candidate Rob McCord answered earlier this week and tackles several issues under the subjects of education, health care, the economy, transportation, municipal policy, and the environment.
When asked about healthcare, for example, Wolf took aim at Gov. Tom Corbett's refusal to agree to Obamacare's Medicaid expansion.
"It is essential that we expand expand Medicaid. I find it unconscionable that Governor Corbett has not taken any action to do so," Wolf said. "We know that expanding this program will increase health care coverage to nearly half-a-million Pennsylvanians, save the Commonwealth millions of dollars, and pump billions into the state's economy."
The candidate also spoke out in support of a statewide severance tax on natural gas. He embraced the platform that has been pushed by the Pa. Democratic Party, which asserts such a move could raise anywhere from $800 million to $1 billion for the state's general fund.
"I will enact a severance tax because it is simply not right that Pennsylvania is the only major gas producing state in the country that does not charge a tax on oil and natural gas extraction," Wolf said. "This tax is largely an exportable tax, paid by those living outside of Pennsylvania. Revenue from this tax will finally allow all Pennsylvanians to share in the benefits of this natural resource."
Additionally Wolf, who is a former Secretary of the Department of Revenue, spoke forcefully for a more progressive tax code.
"I will support an amendment to the state Constitution as I believe that it is unfair that an individual making $300,000 per year is paying the same income tax rate as an individual making $30,000 per year," Wolf stated. "As governor, I will explore and promote reform options that make our tax code more progressive and provide relief to hard working Pennsylvanians."
Other candidates for Governor include former DEP Secretaries John Hanger and Katie McGinty and Rep. Allyson Schwartz. State Treasurer Rob McCord is also expected to run.
Nick Field contributed to this report.