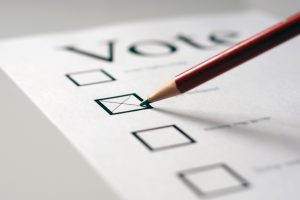 Governor Tom Wolf announced the special election to replace former Congressman Pat Meehan will be held on general election day, and signaled that will be the plan for Congressman Charlie Dent's seat when he officially resigns.
"Given the calendar and timing of these announcements, it makes the most fiscal and practical sense for our county elections office to schedule these special elections on the same day as the November general election," Wolf said.  
Meehan announced his resignation last week.  Meehan was already not seeking re-election following revelations he used his office budget to settle a sexual harassment claim against him.  
The special election will take place using the old Congressional lines, which covers parts of the new 1st, 4th, 5th, 6th, 9th, and 11th districts.  
In the announcement of the special election, Wolf said he "plans to handle any upcoming congressional retirements in the same manner unless they occur within 60 days of the general election."  
This means that when Dent officially resigns, the special election for his district will be held on November 6th as well.