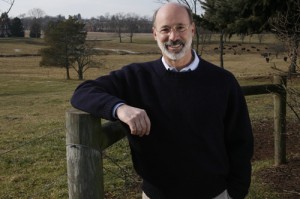 Tom Wolf has an operating budget of at least $12.9 million, the York County businessman announced today.
His campaign said Wolf, also a former Secretary of Revenue, has raised $2.9 million to date. The sum does not include the $10 million Wolf has said he will contribute to his own gubernatorial effort.
The Associated Press first reported the news.
The haul almost certainly will give Wolf one of the biggest bankrolls heading into 2014 – if not the biggest.
None of the other 7 declared Democratic candidates has thus far elected to reveal their fundraising progress.
The timing is no coincidence. Just days before the start of the annual Pa. Society festivities in New York City, Wolf's number will boost his credibility at the same time as it puts pressure on his opponents to show their hands.
Campaigns are not required to file their next fundraising report until Jan. 31. That report will include all money raised and spent until Dec. 31.
The announcement is the latest shrewd move by Wolf's campaign. The first was to decline to host a Pa. Society reception and give $15,000 to Pa. food banks instead.