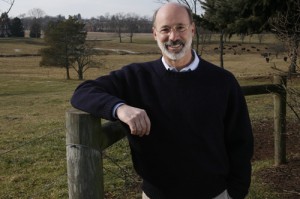 In an internal poll from the Tom Wolf campaign, the former Revenue Secretary finally crossed the 50% threshold, earning 52% of support.
For the first time in a poll, State Treasurer Rob McCord eked past Rep. Allyson Schwartz to come in second place with 14%; Schwartz took 12%.
Former DEP Secretary Katie McGinty came in fourth with 5%.
Just 16% said they were undecided.
Wolf's favorability was also quite high; 59% favorable to 8% unfavorable. McCord again came in second with 34% favorable to 10% unfavorable. Schwartz earned 30% favorable to 11% unfavorable and McGinty again in fourth with 18% favorable, 14% unfavorable.
The poll was executed by Greenberg Quinlan Rosner Research and surveyed 600 likely Democratic primary voters, conducted March 31-April 3, 2014. This survey employs a rigorous screening process, including past primary vote history and vote intention, to ensure the respondents reflect voters who will make it to the poll. As a result, this sampling methodology generates fewer undecideds.
This was not released by the campaign, nor did they intend to make it public, and with all internal polling, its results should be taken with the proverbial grain of salt.
Governor Corbett's campaign used the release of the poll to hit Wolf again on the story from last weekend about the financial history of his business.
"Just a few days after the Philadelphia Inquirer exposed some serious questions about Secretary Tom Wolf's business dealings,  a poll mysteriously falls out of the sky showing former chief tax collector Tom Wolf with an alleged commanding lead over his fellow liberal Democrats," Communications Director Chris Pack told PoliticsPA. "I wonder if the polled asked the question, "How likely would you be to vote for Secretary Tom Wolf if you knew he is financing his campaign with funds he received from the Pennsylvania retirees pension system who lost tens of millions on an investment in his company?"