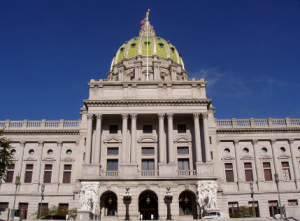 During a meeting with the Inquirer and Daily News editorial staff, Governor Tom Wolf said that he can continue to manage the state's finances indefinitely without a revenue package.
"I'm going to do it myself," Wolf told the editorial board, discussing his plan to borrow over $1 billion against the state's liquor system profits.  
When asked about how long he could manage the finances without a completed revenue package, Wolf said, "I can do this indefinitely."  
According to State House Sound Bites, House Leader Dave Reed (R-Indiana) blamed the failure of proposals to close the budget gap with a tax on hotels on House Democrats withholding support.  
The House and Senate both sent their members home without finalized revenue package.  
"It's certainly not the ending that we wanted," Senate Majority Leader Jake Corman (R-Centre) told the Inquirer.