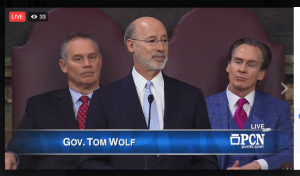 Governor Tom Wolf delivered his third budget address today as he begins to lay the groundwork for re-election.
This year's budget battle will kick off 2018 messaging by the Governor as well as several prospective opponents. He took the middle ground by focusing on spending reductions and not taxes.
"In my proposed budget, there are no broad-based tax increases," Wolf said.
Wolf highlighted things he has been doing throughout his term to streamline government, including his GO-TIME initiatives, and new efforts in this proposal itself to help close the structural deficit.  
"By identifying specific programs that could be working more efficiently – and others that are no longer working at all – this budget proposes reforms that, altogether, will save taxpayers more than $2 billion," Wolf said.  
Two Republican Senators – one who is running for Governor and the other a prospective candidate – blasted Wolf.
Senate Majority Leader Jake Corman (R-Centre), who is mulling a bid, pointed that Wolf still called for tax increases and did not address state's pension liability.
"It is still a budget that proposes a billion dollars plus in tax increases, and doesn't address the main problems facing Pennsylvania," Corman told PoliticsPA.
"Unfortunately his political base doesn't want him to take the lead on pensions. The Governor has got to take the lead on big issues, this is the biggest issue facing Pennsylvania in generations and he wants to take a back seat approach to it. I just don't think governors can do that," Corman continued.  
Sen. Scott Wagner (R-York) officially announced his candidacy in January. His statement suggested an underlying agreement with Wolf's proposed spending reductions and focused criticism on the Governor's process – as well as proposed business taxes.
"For Governor Wolf it is easier to tax people and businesses without any real plan.  Governor Wolf is a failed governor and the 2018 elections cannot come soon enough to replace him," Wagner said in an emailed statement.  
The developing fight between Corman, Wagner and Wolf will play a significant part of the 2018 race.  
Meanwhile a third prospective gubernatorial candidate, Majority Leader Dave Reed (R-Indiana), struck a much more positive note about Wolf's speech.
"We view this as a 180-degree turn for the governor," Reed told PennLive. "It's a step in the right direction and now we want to continue moving in direction with our caucus, hopefully the House Democrats, the Senate and the administration in the months ahead."