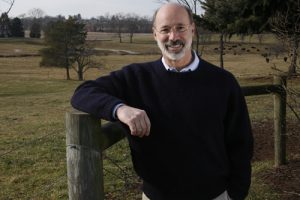 Governor Tom Wolf will start the two year battle for a second term with $1.7 million in his war chest.  
Wolf's campaign raised $2.5 million in 2016, and spent $1.4 million.  Most of that went to the Pa. Democratic Party: over $675,000. The Pennsylvania Future PAC got $100,000.  
Wolf's largest donors were labor unions, who gave a more than a combined $730,000 to his campaign. Other donations came from the typical array of incumbent-friendly businesses, trade associations and advocacy groups. Congressman Dwight Evans (D-Phila), a longtime Wolf ally, gave $26,000.
Fundraising reports are a useful snapshot of a candidate's strength, but Wolf has an advantage beyond their scope as an independently wealth businessman. For example, he contributed $10 million to jumpstart his campaign in 2014.
You can read the entirety of Wolf's filing here.