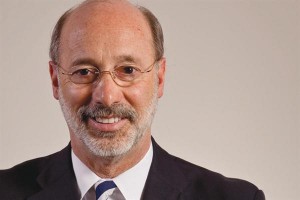 Businessman and former Pa. Revenue Secretary Tom Wolf says he's likely to jump into the Democratic primary for Governor.
"I will likely be running to seek the Democratic nomination for governor. I really want to run," he told Salena Zito of the Pittsburgh Tribune-Review.
"We could do so much better, and I think I bring a unique inside-outside perspective of having run a business, created jobs and also worked in government," he said. But he won't run if "something convinces me that that is a fool's errand."
Wolf, 63, presently owns and operates Wolf Industries, a building supplies wholesaler in York, Pa. He served as Revenue Secretary from 2006 to 2008 under Gov. Ed Rendell.
If he gets in, he'll face one of his cabinet colleagues: former Department of Environmental Protection Secretary John Hanger, who announced in December. Cumberland County pastor Max Meyers is in the race, too.
State Treasurer Rob McCord and former Congressman Joe Sestak headline the long list of other possible candidates.
On the GOP side, Montgomery County Commissioner Bruce Castor has also floated a possible bid.
A series of bad poll numbers for Gov. Corbett – most recently today from Quinnipiac – has enticed several prospective challengers to consider a run.