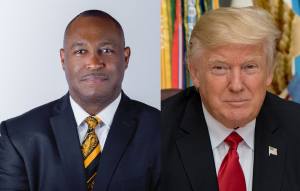 Former Pittsburgh Steeler and current Supreme Court candidate Judge Dwayne Woodruff entered into the national debate over President Donald Trump's on NFL players protesting during the national anthem. 
"This past Friday, the leader of our country made disparaging comments, which only serve to push our country to become more divided and ultimately penalizes our first amendment rights under the Constitution," Woodruff said in a statement.  
During a rally in Huntsville, Alabama Trump called for NFL players who knelt during the national anthem to be fired by the team owners.  
"Wouldn't you love to see one of these NFL owners, when somebody disrespects our flag, to say, 'Get that son of a b—- off the field right now. Out. He's fired. He's fired," Trump said.  
Woodruff, the first African-American endorsed by the Pennsylvania Democratic Party for a Supreme Court seat, cited the efforts of civil rights leaders as support for the NFL players.
"The history of our country records the courageous efforts by people we now consider heroes such as Dr. Martin Luther King, Jr., Muhammad Ali and Rosa Parks; they endeavored against great opposition, to gain/preserve rights and freedom for current and future generations. We must continue to be a country united in justice and equality for all," Woodruff said.  
After Trump's comments, the Steelers remained in the locker room during the national anthem.  Most other NFL teams held some form of protest during the national anthem.