By Elyse Clonan, Contributing Writer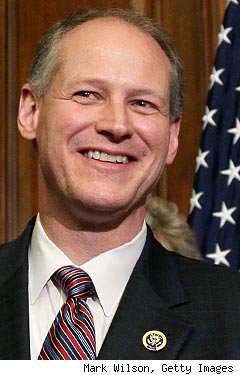 Rep. Mark Critz won another labor endorsement Tuesday afternoon: the Laborers District Council of Western Pennsylvania. It's a solid pickup for Critz, who must battle fellow Democrat Rep. Jason Altmire in a primary this April.
The Pittsburgh-based Laborers union represents 17,000 members in 33 counties, including each county in the newly drawn district.
Critz was also endorsed by the United Mine Workers on Friday.
Union support is important in the labor-heavy southwest Pa. district, but not necessarily decisive. Many labor PACs have contributed to both Critz and Altmire this cycle.
"The Laborers endorse Mark Critz for Congress because he has not wavered when it comes to standing up for workers and fighting to create jobs," District Council President/Business Manager Phil Ameris said in a press release.  "Mark…is willing to stand up for working families in the face of fierce opposition from special interest groups in Washington."
Congressman Critz expressed his thanks to the members of the District Council, stating, "This endorsement shows that I have the strongest record in this race on issues ranging from creating jobs to opposing unfair trade agreements and fighting the Tea Party's attacks on worker's rights."