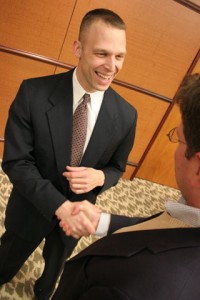 Republican Scott Perry leads Democrat Harry Perkinson 39.4 percent to 21.7, according to a poll by York College's Institute of Applied Social Research and commissioned by the York Daily Record.
It's the first public poll of the race.
Perry, a state Rep., and Perkinson, an engineer, are vying to replace outgoing Rep. Todd Platts (R-York). Perry cleared a competitive 5-way primary with over 50 percent of the vote.
5.4 percent of poll respondents picked Independent Wayne Wolff and 2.5 percent picked Libertarian Mike Koffenberger. 31 percent of likely voters were undecided.
The survey of 355 likely voters was conducted from Oct. 4 to 11 via live telephone interviews. The margin of error is plus or minus 5.2 percent.
The 4th congressional district comprises all of Adams and York counties, plus southeastern Cumberland County and Harrisburg, Dauphin County.
Though the district grew slightly more Democratic during redistricting, Republicans have a steady lead here, as shown by the poll's other findings:
Mitt Romney leads Barack Obama 46.5 percent to 38.6.
Tom Smith leads Bob Casey 42.3 percent to 36.3 for U.S. Senate
John Maher leads Democrat Eugene DePasquale – who counts the 4th district as his home base – 33.5 percent to 29.9.