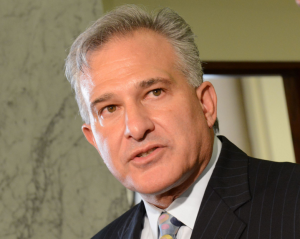 After picking up a key endorsement from Lt. Governor Mike Stack earlier this week, Allegheny County DA Stephen Zappala today announced four more endorsements.
State Senator John T. Yudichak as well as State Reps Marty Flynn, Sid Kavulich and Frank Farina are all supporting Zappala for Attorney General.
"Steve has fought for justice day in and day out for nearly two decades as District Attorney in Allegheny County," said Yudichak. "He's fought public corruption, taken guns off the streets and improved relations between communities and police. He has the best experience to restore integrity to the office of Attorney General."
Zappala has continued to pump up his work as DA after he teamed with Northampton County DA John Morganelli against Montgomery County Commissioner Josh Shapiro for his lack of courtroom experience this past weekend at the AG debate.
"I'm humbled that my record and work as an effective and innovate prosecutor has earned the support of these distinguished elected officials from the Northeast," said Zappala. "Today's endorsements are significant to securing the Democratic nomination for AG. I'm truly appreciative."
Zappala will face Shapiro and Morganelli in the Democratic primary on April 26th seeking to replace Attorney General Kathleen Kane, who will not be running for re-election.