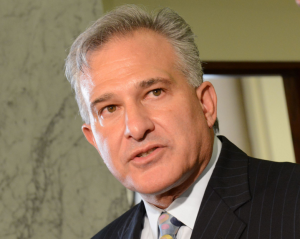 The Northeast Regional Council of Carpenters is throwing their support behind Allegheny County District Attorney Stephen Zappala's campaign for Attorney General.
Despite the fact that a majority of the union's members are from Philadelphia, they chose the candidate from western PA.
"On behalf of the Northeast Regional Council of Carpenters (NRCC) it is with great pleasure that we endorse you for Pennsylvania Attorney General," said NRCC Executive Secretary John Ballantyne. Your commitment to public service and to the labor movement has been long standing and we are proud to support you in your candidacy."
"People who work for a living have known for the past 18 years that I will fight for their interests and stand up to corrupt politicians and corporations who don't respect their rights and safety in the workplace," Zappala responded. "I look forward to working with the Carpenters to build a better system of justice in Pennsylvania."
Zappala is running against Montgomery County Commissioner Josh Shapiro and Northampton District Attorney John Morganelli in the Attorney General Democratic primary.