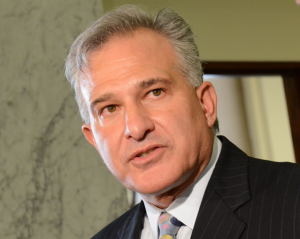 Montgomery County Commissioner Josh Shapiro could not secure the support of the Democrats from his neighboring county.
Instead, the Philadelphia Democratic City Committee decided to throw their support behind Allegheny County DA Stephen Zappala's campaign for Attorney General.
The announcement of this endorsement means that Zappala now has the support of the two largest Democratic organizations in PA, with Allegheny County in the west and Philadelphia in the east.
"Winning the endorsement of the organization that represents the biggest block of Democratic voters in Pennsylvania is a tremendous boost to our campaign," Zappala stated. "I am truly honored that the Philadelphia Democratic City Committee chose to endorse me after taking measure of my 18-year record as a prosecutor fighting for justice for crime victims, holding corrupt public officials accountable and making our justice system more fair and transparent for everyone."
In addition to Zappala and Shapiro, Northampton DA John Morganelli is also seeking the Democratic nomination in the race for Attorney General.
The contest is scheduled for April 26th.