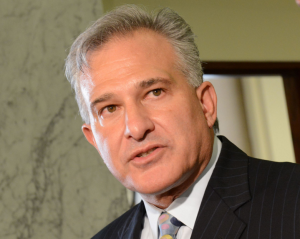 Allegheny County DA Stephen Zappala continues to consolidate support out west for his Attorney General campaign.
The Western Pennsylvania Police Chiefs' Association announced that they're endorsing Zappala's campaign.
"As a rule, we don't usually get involved in the electoral process but with Stephen Zappala on the ballot, we felt compelled to weigh-in given his record of service and accomplishment as District Attorney," Fox Chapel Police Chief and President of the Western Pennsylvania Police Chiefs' Association David Laux said. "No one has done more to advance the profession of law enforcement, from embracing advances in forensic science, getting illegal guns off the streets or to building public trust between communities and the public servants who police them."
"The Chief's Association endorsement of Stephen Zappala is one example of many more to come that demonstrates support beyond the traditional Democratic base and other Democratic politicians," said Zappala Campaign Manager Marty Marks. "Stephen Zappala, with his record of experience and accomplishment, expands the playing field in a way no other candidate in this race can."
The Western Pennsylvania Police Chiefs' Association represents the police forces of twenty-one counties: Allegheny, Armstrong, Beaver, Butler, Cameron, Clarion, Crawford, Elk, Erie, Fayette, Forest, Greene, Indiana, Jefferson, Lawrence, McKean, Mercer, Venango, Warren, Washington and Westmoreland.
Other Democratic candidates for Attorney General include incumbent Kathleen Kane, Montgomery County Commissioner Josh Shapiro and Northampton County DA John Morganelli.